The idea for Disc Rev started in early 2020.  In that idea phase, as we were looking for advice, a friend (Camden) of a friend (Steve) brought Kyle to play a round with us.  I spent our first round peppering Kyle and Camden with questions on how we could bring real value to the disc golf community and make Disc Rev a success.   That advice became the foundation of how we started our little company.  You could say Kyle has been a founding member of Disc Rev since before we started.  Combine his awesome advice with the fact that Kyle has been part of almost every big milestone for Disc Rev and it is our great pleasure to announce that Mr. Kyle Harrigan is an official member of Team Disc Revolution for 2023 and beyond.
---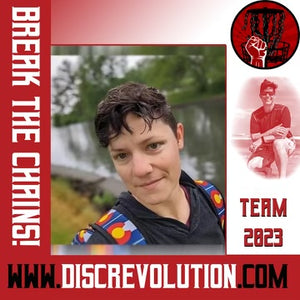 We are delighted to announce that Ky Kline is representing Team Disc Revolution for a second year in 2023.  We originally met Ky at Disc Rev's first event as a vendor, Aviary Fools in Colorado Springs.  We had a great time talking to Ky about her love of the sport, running a small business, and her favorite brand Dynamic Discs.  Our friendship with Ky grew as we continued to see her at events all over Colorado.  Fast forward three years, now Ky is running multiple tournaments per year including Veterans and Womens events.  Ky also designs amazing hoodies and jerseys through her brand Kolorful Kylorado. She has designed four Disc Rev jerseys, our Vets jersey, our Vets hoodie, and the upcoming 2023 Aviary Fools hoodie, all of which receive constant compliments.  We look forward to watching Ky continue growing her events and her design brand this year.
Check out our interview with Ky below and learn a little more designer extraordinaire.
---
We are very happy to announce that Aidan Sanabria will continue to be a member of Team Disc Revolution for the 2023 disc golf season.  We are proud of Aidan's growth as a player and team member this year.  Aidan played 32 tournaments in 2022 and pumped his PDGA rating 33 points, from 873 to 906.  Aidan also spent the second half of the year working on his mental game with fellow Disc Rev player and team "old guy" Tempe Krieger.  We look forward seeing what this next year holds for Aidan. Check out our 2023 update interview with Aidan...
---
2…4…6…8…Who do we appreciate, Josh Rosa! 
We are excited to announce that TD extraordinaire Josh Rosa is again on Team Disc Revolution as our Director of Competition for the 2023 disc golf season.  We are extremely appreciative of Josh's time and dedication to helping us grow Disc Revolution and disc golf in our community. 
---
We are very excited to announce that Aidan Sanabria has joined the Disc Revolution player team!  Playing alongside Aidan for the last year we have watched him grow and develop into an awesome player.  Through hard work and dedication he has improved his PDGA rating by 72 points in just 12 months, now sitting as a 903 rated player.  Aidan's positive attitude, family values, and love of disc golf make him a perfect teammate for Disc Revolution.  Check out our interview with Aidan below and learn a little more about our newest team member.   What would you like everyone...